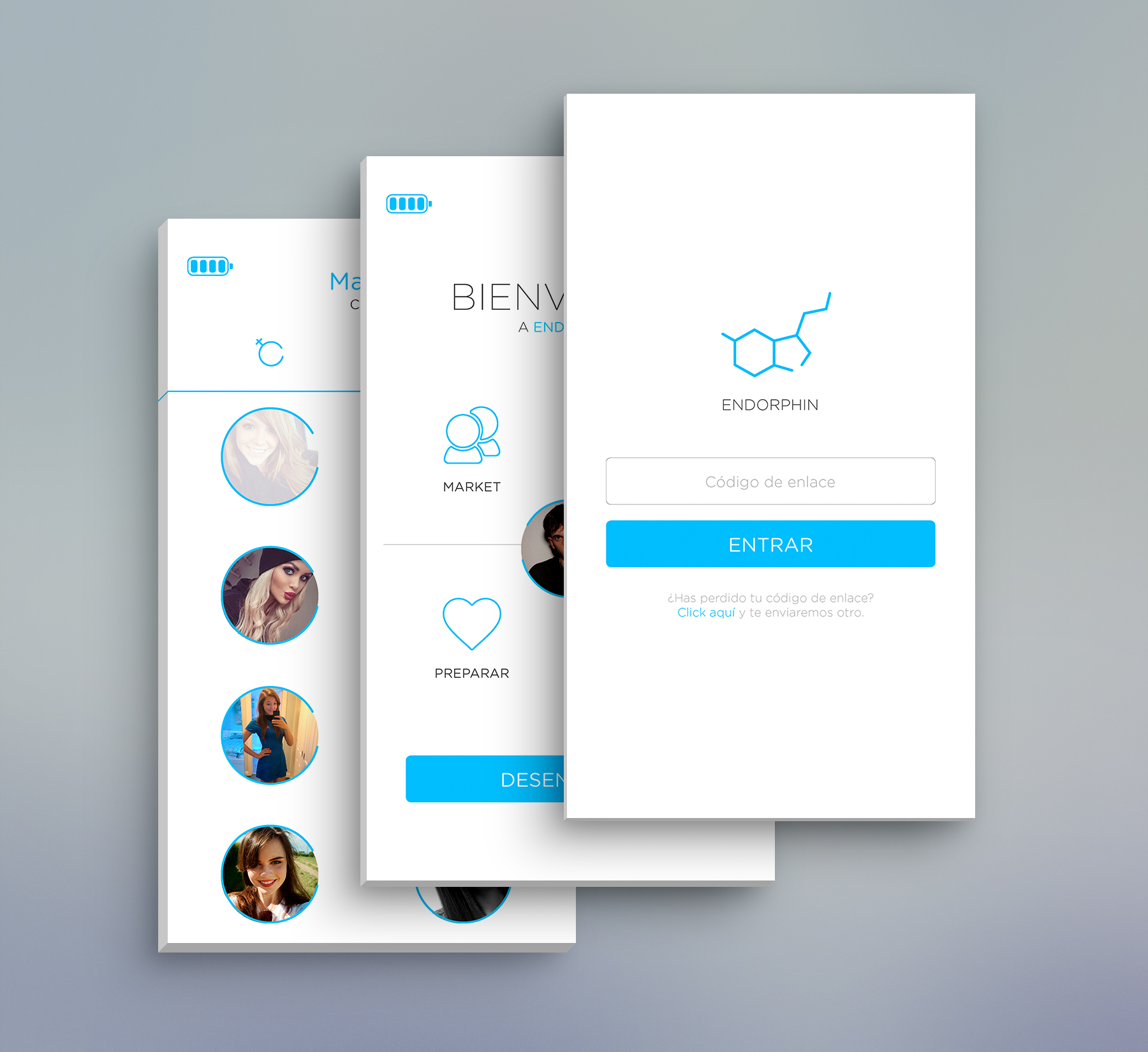 Endorphin App
This dystopian future is located in 2080, in a hyperconnected society, sex is no longer a physical action, now is a virtual action and also neuronal through systems that connect the emotions and feelings of two peopl in different countries or people who are relatively close, but they are reluctant to physical contact to obtain sexual pleasure.
Endorphin is an app platform, which allows the user to get orgasms at any place and time of day. The user must pre-pay through the Internet, choosing between three of the monthly rates:

-7,99 € (30 monthly orgasms).
-14,99 € (45 monthly orgasms).
-28.99 € (100 monthly orgasms).

Once you have chosen the pay rate you need, you will receive the user manual in your email and at home you will receive the packaging; containing the connection bracelet and the link code (personal, unique and non-transferable between people), with which you can link to your mobile phone via Bluetooth connection.
Este futuro distópico se sitúa en el año 2080, en una sociedad hiperconectada,
el sexo ha dejado de ser una acción física, para ser una acción virtual e incluso neuronal, a través de sistemas que permiten conectar las emociones y sensaciones de dos personas en distintos países o personas que están relativamente cerca, pero que son reacias al contacto físico para obtener
placer sexual.
Endorphin es una plataforma app, que permite al usuario obtener orgasmos en cualquier lugar y hora del día. El usuario ha de abonarse previamente a través de Internet, escogiendo entre tres de las tarifas mensuales:
-7,99€ (30 orgasmos mensuales).
-14,99€ (45 orgasmos mensuales).
-28,99€ (100 orgasmos mensuales).
Una vez elegida la tarifa que necesite, recibirá en su correo electrónico el manual de usuario y en casa recibirá el packaging; que contiene la pulsera de conexión y el código de enlace (personal, único e intransferible entre personas), con el que podrá vincular a su móvil mediante conexión bluetooth.
Enlace a la App:
https://marvelapp.com/1d5e4ia
2016